3G 4G GSM mobile phone signal booster repeater
Certification CE and RoHS
Description:
The single system series are designed for indoor signal coverage solution. Such as the bookstore, the restaurant, the coffee shop, the KTV, the bar, the parking pot, the super market,office,building...It can support any single system of CDMA450,TETRA,CDMA,IDEN,EGSM,GSM,DCS, PCS,WCDMA,AWS,LTE.
The single system repeater improves indoor cellphone coverage by capturing and repeating the outside signal, bringing it into the building and enhancing it.You can get a better call experience and faster data download speed,while can save your phone battery life.
Coverage:
3000sq. M coverage.
Features:
1.
Elegant and Compact design
,good isolation and heat dissipation for long time operation.
2.
Built-in AGC and ALC circuits
, which can automatically control the gain of the repeater depending upon the strength of input signals.
3.
31dB MGC
(Manual gain control) 1dB one step available for both uplink and downlink to adjust the gain value for proper coverage during installation or maintenance.
4.
Limit output power
for both uplink and downlink to avoid deep self-oscillations from jamming the towers, saving your trouble from operators.
5.
Wide input power range
,low power consumption.
6.
With good IMD3

,it can have more antennas for covering without affect towers.
7.

Intermediate IF SAW filter technology

,good out of band rejection,amplify only specific your required signals and reject all the others.
8.
Output power can be from 10dbm to 30dbm and gain can be 60db to 85db,band can be full band,band selective or industrial standard.
Item No. And Frequency:
ET-CRCL27S-F CDMA450(Uplink: 452.5-457.5MHz, Downlink: 462.5-467.5Mhz)
ET-CRT27S-F TETRA(Uplink: 380-385Mhz, Downlink: 390-395Mhz)
ET-CRC27S-F CDMA850(Uplink: 824-849Mhz, Downlink: 869-894Mhz)
ET-CRI27S-F IDEN800(Uplink: 806-821Mhz, Downlink: 851-866Mhz)
ET-CRG27S-F GSM900(Uplink: 890-915Mhz, Downlink: 935-960Mhz)
ET-CRE27S-F EGSM900(Uplink: 880-915Mhz, Downlink: 925-960Mhz)
ET-CRW27S-F WCDMA2100(Uplink: 1920-1980Mhz, Downlink: 2110-2170Mhz)
ET-CRD27S-F DCS1800(Uplink: 1710-1785Mhz, Downlink: 1805-1880Mhz)
ET-CRP27S-F PCS1900(Uplink: 1850-1910Mhz, Downlink: 1930-1990Mhz)
ET-CRA27S-F AWS2100(Uplink: 1710-1755Mhz, Downlink: 2110-2155Mhz)
ET-CRL27S-F LTE2600(Uplink: 2500-2570Mhz, Downlink: 2620-2690Mhz)
RF Repeater Typical Application: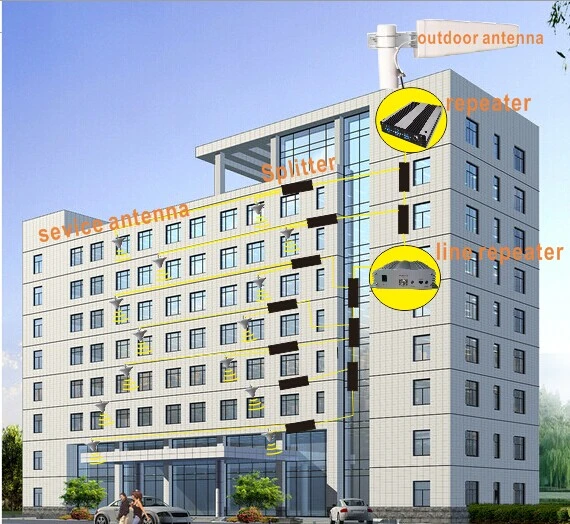 Specifications:
RF Specifications
Items
Specifications
Uplink
Downlink
Frequency Range
CDMA450
452.5 ~ 457.5MHz
462.5 ~ 467.5MHz
CDMA850 or LTE
824 ~ 849MHz
869 ~ 894MHz
GSM900 or LTE
890 ~ 915 MHz
935 ~ 960 MHz
EGSM900 or LTE
880 ~ 915 MHz
925 ~ 960 MHz
DCS1800 or LTE
1710 ~ 1785 MHz
1805 ~ 1880 MHz
PCS1800 or LTE
1850 ~ 1910 MHz
1930 ~ 1990 MHz
WCDMA2100 or LTE
1920 ~ 1980 MHz
2110 ~ 2170 MHz
AWS2100 or LTE
1710 ~ 1755 MHz
2110 ~ 2155 MHz
LTE
698 ~ 716MHz
728 ~ 746MHz
746 ~ 757MHz
776 ~ 787MHz
791 ~ 821MHz
832 ~ 862MHz
2500 ~ 2570 MHz
2620 ~ 2690 MHz
as developed
IDEN800
806MHz ~ 821MHz
85lMHz ~ 866MHz
TETRA
380 ~ 385MHz
(or customized)
390 ~ 395MHz
(or customized)
Gain
ET-CR27SI-F
≥ 75dB
≥ 80dB
ET-CR30SI-F
≥ 80dB
≥ 85dB
Output power
ET-CR27SI-F
≥ 20dBm
≥ 27dBm
ET-CR30SI-F
≥ 23dBm
≥ 30dBm
Band width
Wide Band
MGC ( Step Attenuation )
≥ 31dB / 1dB step
Automatic Level Control
≥ 40dB
Gain Flatness
≤3-5dB(P-P) depend on the frequency and bandwidth
Noise Figure
≤6dB
VSWR
≤1.6
Group Delay
≤6μs
Frequency stability
≤0.01ppm
Spurious Emission & Output inter-modulation
GSM Meet ETSI TS 151 026 V6.1.0
WCDMA Meet 3GPP TS 25.143 ( V 6.2.0 )
CDMA Meet IS95 & CDMA2000
MTBF
>50000 hours
Power Consumption
< 25W
Power Supply
Input AC90~264V,output DC9V / 5A
Impedance
50 ohm
Mechanical Specifications
I /O Port
N-Female
Operating Temperature
-25ºC~+55ºC
Environment Conditions
IP40
Dimensions
270x240x55mm/10.6x9.4x2.2inch
Weight
≤ 4Kg