Top Selling Wireless Cellular GSM 2g 3G 4G Mobile Network Signal Repeater Cell Phone Signal Booster

WT-CDW04 850/1800/2100MHz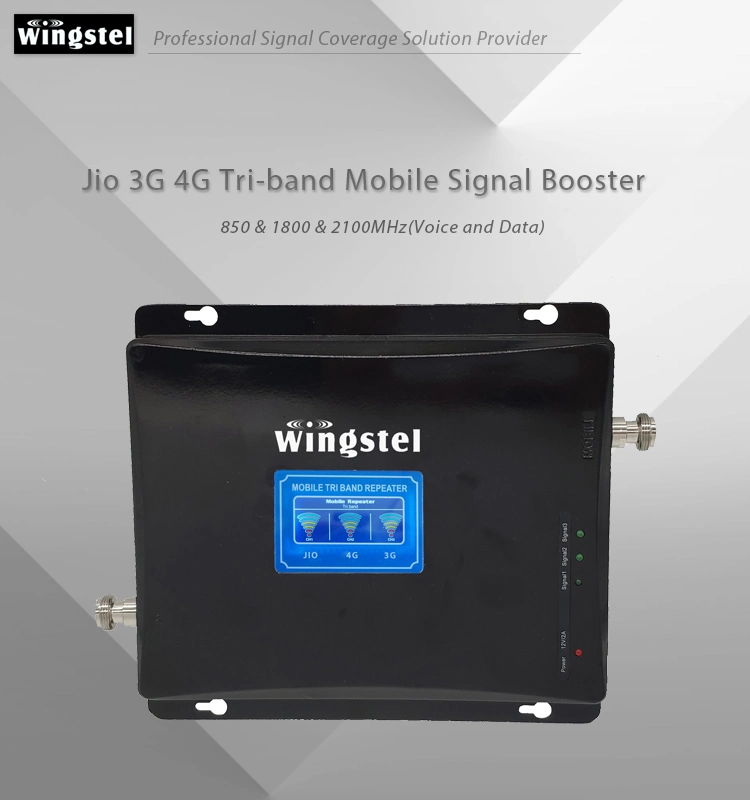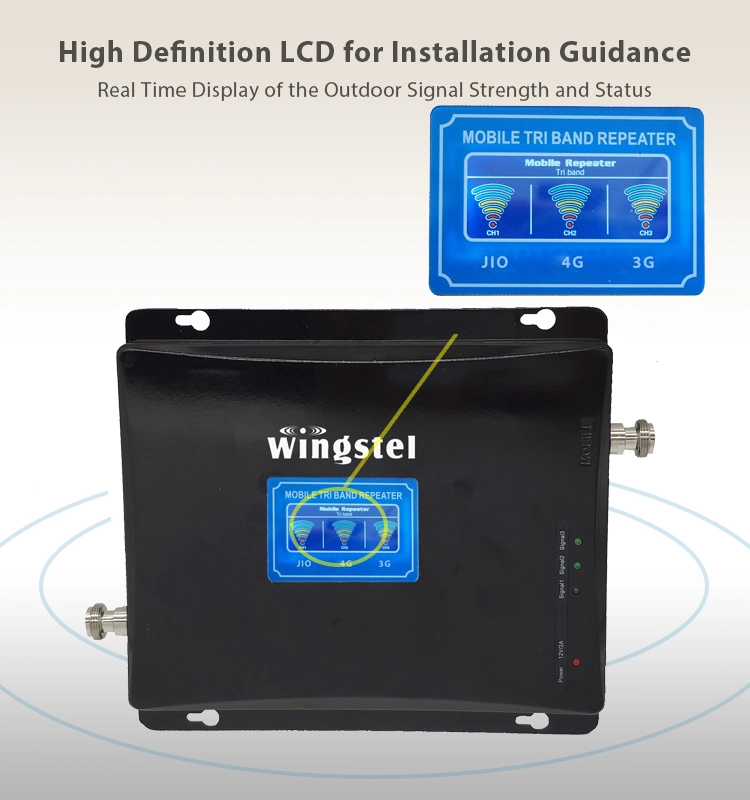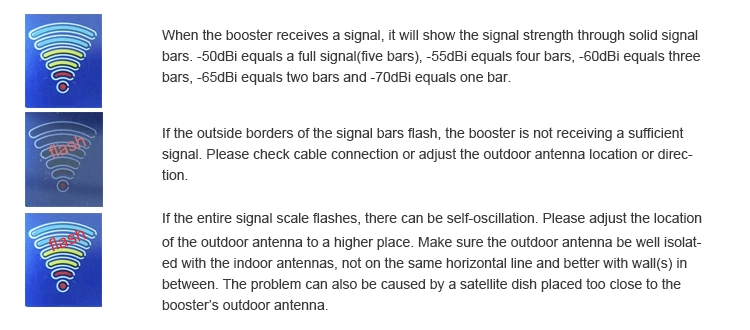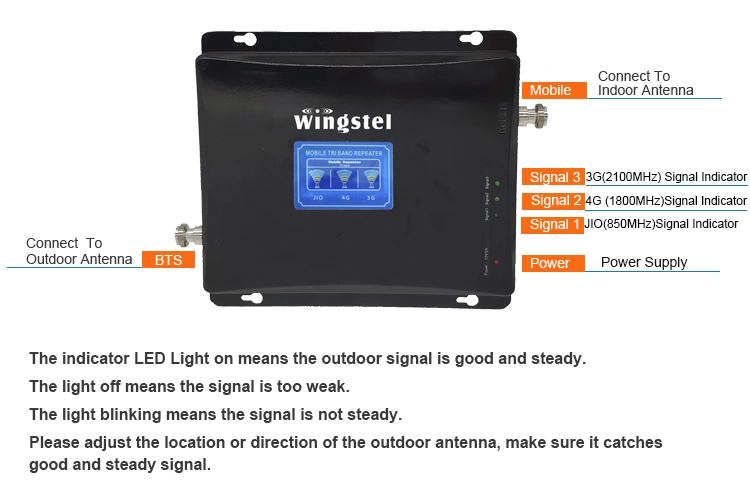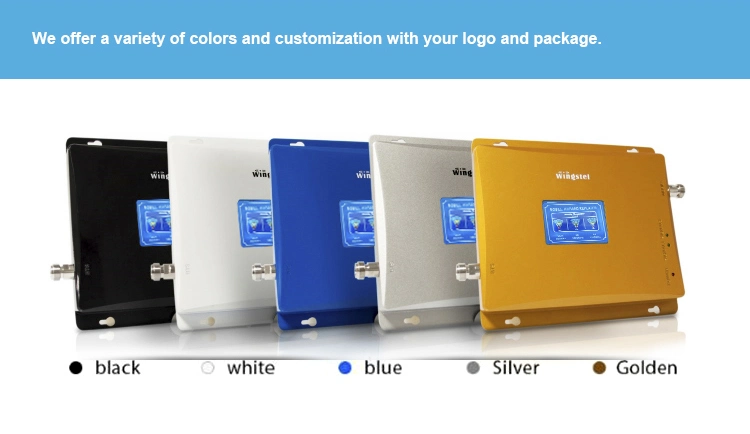 A mobile phone signal repeater provides the ultimate solution in any area where cellular communications can not work well due to leak of signals. The repeater device features easy installation & operation, build-in indoor antenna and no interference. It could also improve indoor electromagnetism environments, protract cellular battery life and reduce radiation of cellphones. A mobile phone repeater is ideal for house, home, office use.
Introduction To Mobile Phone Signal Repeater
1. Enhance Mobile Phone Signal Strength
2. Improve Communication Quality
3. Reduce Cellphone Radiation
4. Protract Cellular Battery Life
5. Economic Building Cost
6. Easy Operation
7. Easy Installation
8. Build-in Power Supply
The repeater makes the signal stronger in places with poor signal coverage such as:
1) Underground areas: basements, parking lots, tunnels;
2) Other places where cellular signal is shielded by metal or concrete walls: offices, supermarkets, cinemas, hotels;
3) Places distant from the BTS like private houses.

How does the Booster/Repeater Works?
Repeaters are designed to fulfill the idea of one and main principle: to fill the areas with the weak or bad signal and to amplify these low signals in order to provide you with the communication suitable for you.


Tri-band 850/1800/2100MHz Mobile Signal Booster description:
Frequency range

Uplink: 824-849/1710-1785/1920-1980MHz
Downlink: 869-894/1805-1880/2110-2170MHz

Gain ( dB)

Uplink: 60±3dBi Downlink: 65±3dBi

Export power (Po)

20dBm±3dBm

Power supply

AC110V-240V 45~55Hz

Size

232*182*22mm

coverage area

1000 square meters

Pass band ripple

≤3dB

I/O impedance

50Ω/N connector

Noise figure

≤4dB

Transmission Delay

≤0.5μ s

Ambient temperature

-10ºC~60ºC

Reliability

To the GB6993-86 standard

Electromagnetic compatibility

To the ETS300 694-4 standard

Function

a) Power supply LED denote b) Export power LED denote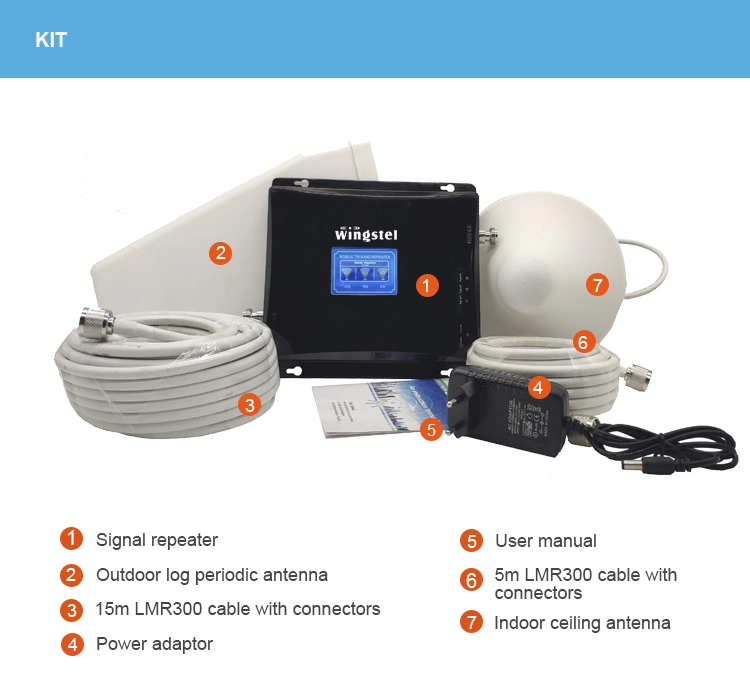 Tri band 850/1800/2100MHz Signal Amplifier Packing list:
| | |
| --- | --- |
| Item | Quantity(Piece) |
| Tri-band 850/1800/2100MHz cellphone signal repeater | 1 |
| Outdoor Log periodic antenna | 1 |
| User manual | 1 |
| Indoor ceiling antenna | 1 |
| 15m LMR300 Cable with connecots | 1 |
| 5m LMR300 Cable with connecots | 1 |
| Power adaptor | 1 |

Installation steps:
1.Fix up outdoor antenna reception on housetop and point to signal tower.
2.Connect outdoor antenna to "outdoor" port in repeater machine through cable.
3.Connect indoor antenna(s) to "MOBILE" port in repeater through cable also.
4.Plug power adaptor into AC power socket and finish installation.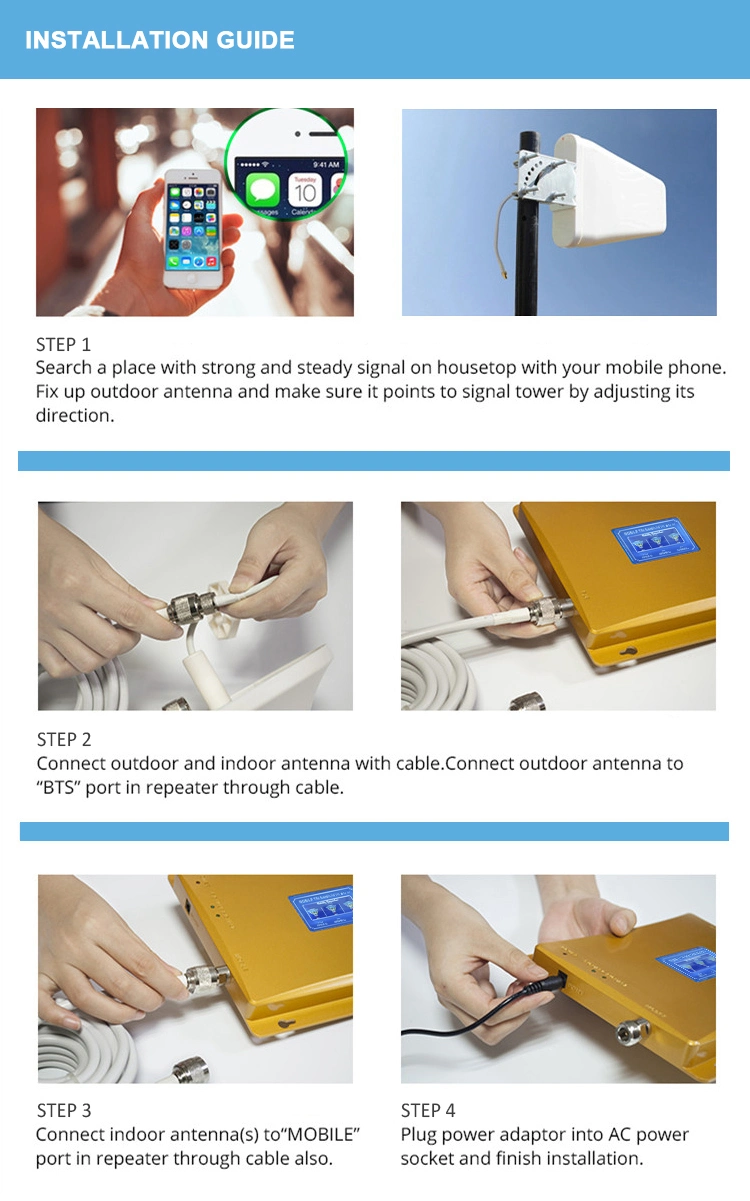 GSM 850/1800/2100MHz Mobile signal booster Installation tips:
1.Please make sure the outdoor antenna is well isolated with the indoor antenna(s). They should not be on the same horizontal line. The outdoor antenna should be on the housetop, at least 10 meters far away from the indoor antenna(s), better with stairs or wall(s) in between. Put the indoor antenna(s) in the middle of room, far away from the window and door.
2. If still no signal reception after activating repeater, please check if outdoor antenna points to signal tower or elsewhere have strong signal and check if strength achieve -70dBm. Please adjust the direction of the outdoor antenna until it catches good and steady signal. To ensure the result, the outdoor signal should be as strong as possible.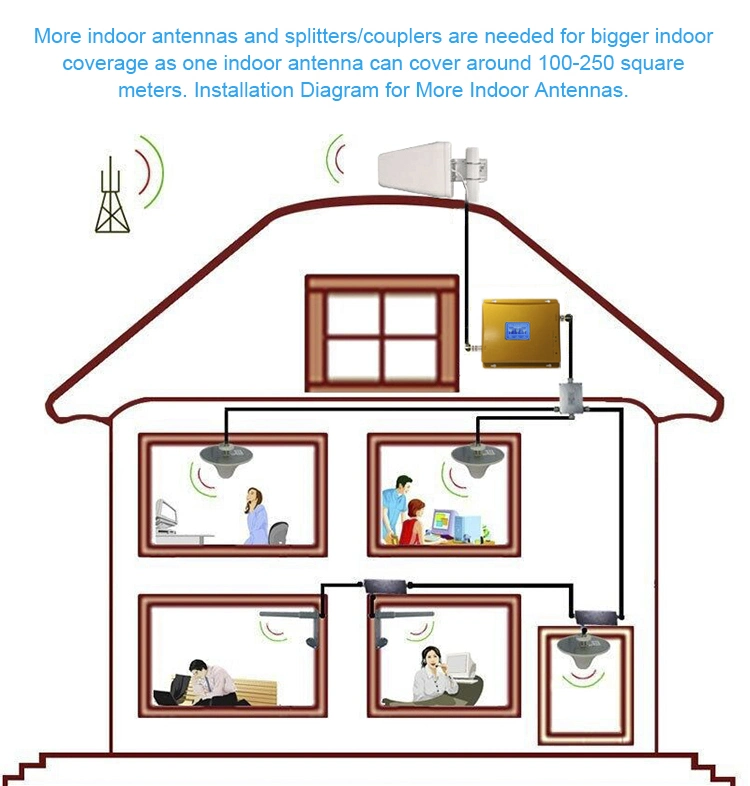 Our service:
1.One-year warranty;
2.Fast delivery(ONE day for regular orders);
3.OEM service(customized colors, logo and packing etc available);
4.Paypal/Western union/TT all acceptable.