43dBm CDMA 800MHz/GSM 850MHz Signal Booster 800MHz GSM Repeater (GW-43FORC)
The
Dual-band RF Repeater (RFR)
is designed to provide a more cost-effective solution than adding a new Base Transceiver Station (BTS) to improve signal coverage and communication quality in the dual-band system. And its easy installation and maintenance can help carriers get fast returns.
The repeater is working as a relay between the BTS and mobiles. It receives the low-power signal from BTS via the Donor Antenna, linearly amplifies the signal, and then retransmits it via the Coverage Antenna to the weak/blind coverage area. And the mobile signal is also amplified and retransmitted to the BTS via the opposite direction.
Features:
Aluminum-alloy casing with IP65 protection has a high resistance to dust, water, and corroding
Low interference to BTS by adopting a linear amplifier with high gain and low noise
Adopting filter with high selectivity and low insertion loss eliminates interference between uplink and downlink
The USB port provides a link to a notebook for local supervision or to the built-in wireless modem to communicate with the NMS (Network Management System) that can remotely supervise the repeater's working status and download operational parameters to the repeater
Application:
Application Diagram To expand signal coverage or fill the signal blind area where the signal is weak or unavailable. Outdoor: Airports, tourism regions, golf courses, tunnels, factories, mining districts, villages, … Indoor: Hotels, exhibition centers, basements, shopping malls, offices, parking lots, …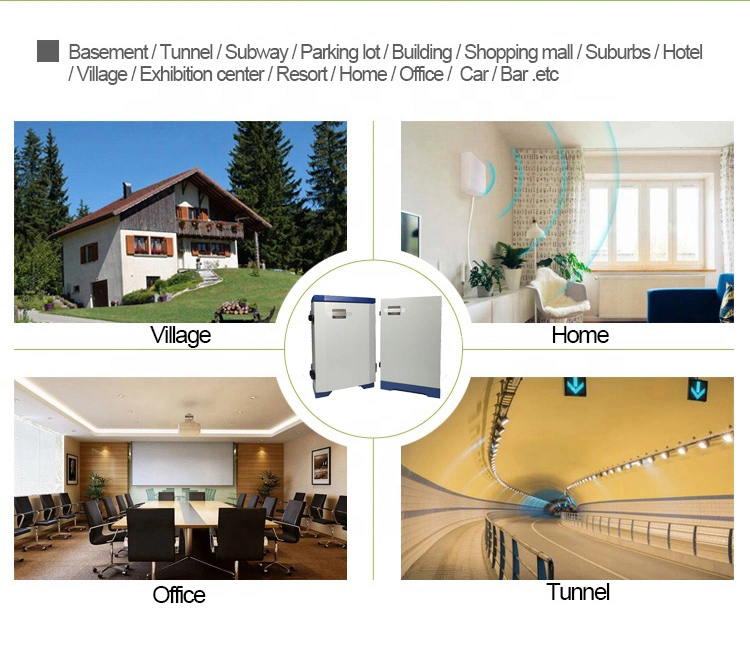 Donor Unit
Remote Unit
Working Frequency (customizable)
Uplink
824~849MHz
Downlink
869~894MHz
Transmission Distance
≤ 20km
Max. Input Level (Non-Destructive)
-10dBm
Output Power (customizable)
30~43 dBm (1~20 W)
Max. Gain
Cable-access: ≥65dB / Wireless-access: ≥85dB
Gain Adjustment Range
1~31dB @ step of 1dB
Voltage Standing Wave Ratio (VSWR)
< 1.5
Noise Figure
< 5dB (only for uplink)
In-Band Ripple
≤ 3dB p-p
Spurious Emission
Within working band
≤ -15dBm/30kHz
Out of working band
(Δf > 2.5MHz)
9kHz~1GHz: ≤ -36dBm/30kHz
1GHz~12.75GHz: ≤ -30dBm/30kHz
Third-Order Intermodulation
≤ -45dBc/30kHz(measured under rated output power)
System Delay
≤ 5.0μSec
I/O Impedance
50Ω
Fiber Optic Light Source
Laser unit (wavelength: 1310nm / 1550nm)
Optical Output Power
≥0dBm (1310nm) / ≥3dBm (1550nm)
Optical Receiver Sensitivity
≤ -25dBm
RF Connector
N-Type (Female) / changeable / bottom of casing
Temperature Range
Operation: -25°C ~ +55°C / Storage: -30°C ~ +60°C
Relative Humidity Range
≤ 95% (non condensing)
Power Supply (customizable)
DC 48V / AC 85V - 265V, 45Hz - 65Hz
Backup Power Supply (optional)
4 hours
Power Consumption
≤ 200W
Casing Level
IP65
Dimensions
418mm X 90mm X 290mm
630mm X 400mm X 230mm
Weight
30dBm: 8kg
33~37dBm: 27kg
37~43dBm: 35kg
Remote Monitoring/Control via NMS(optional)
Real-time alarm for door status, temperature, power supply, LNA, VSWR, self-oscillation, etc.
Remote control such as turn on/off, increasing/decreasing output power, etc.
Real-time status for output/input power, UL/DL gain, all status of repeater etc.
ALC & AGC
Supported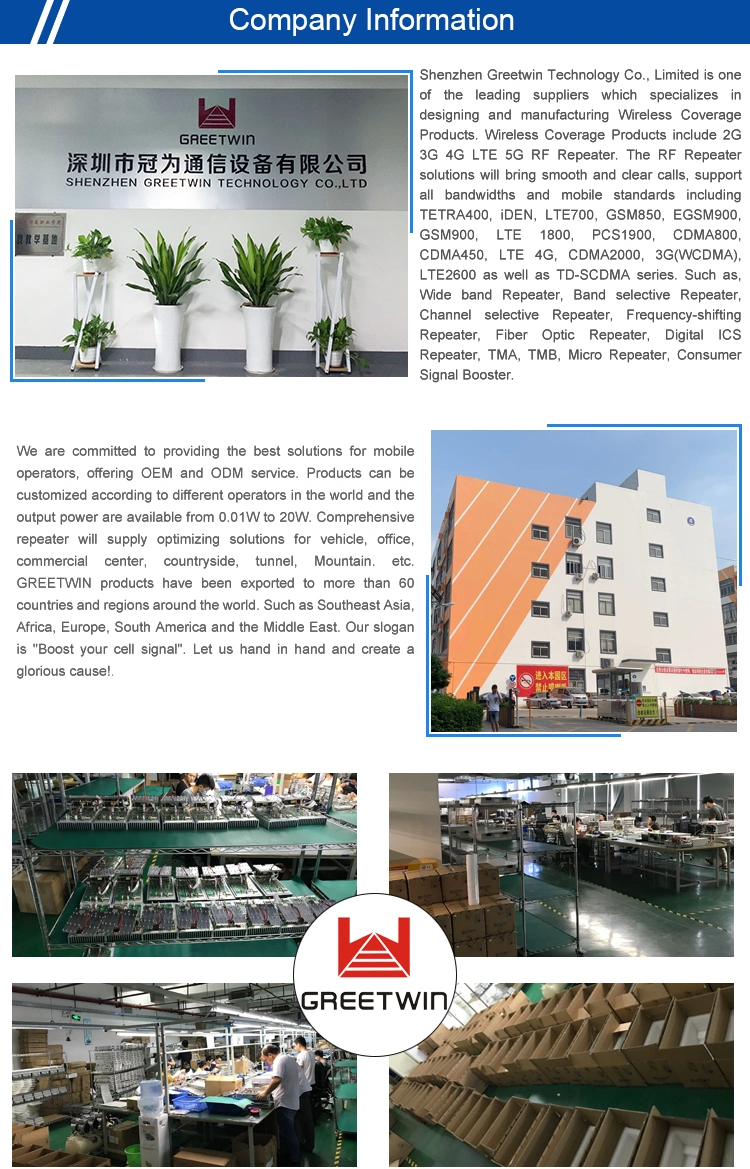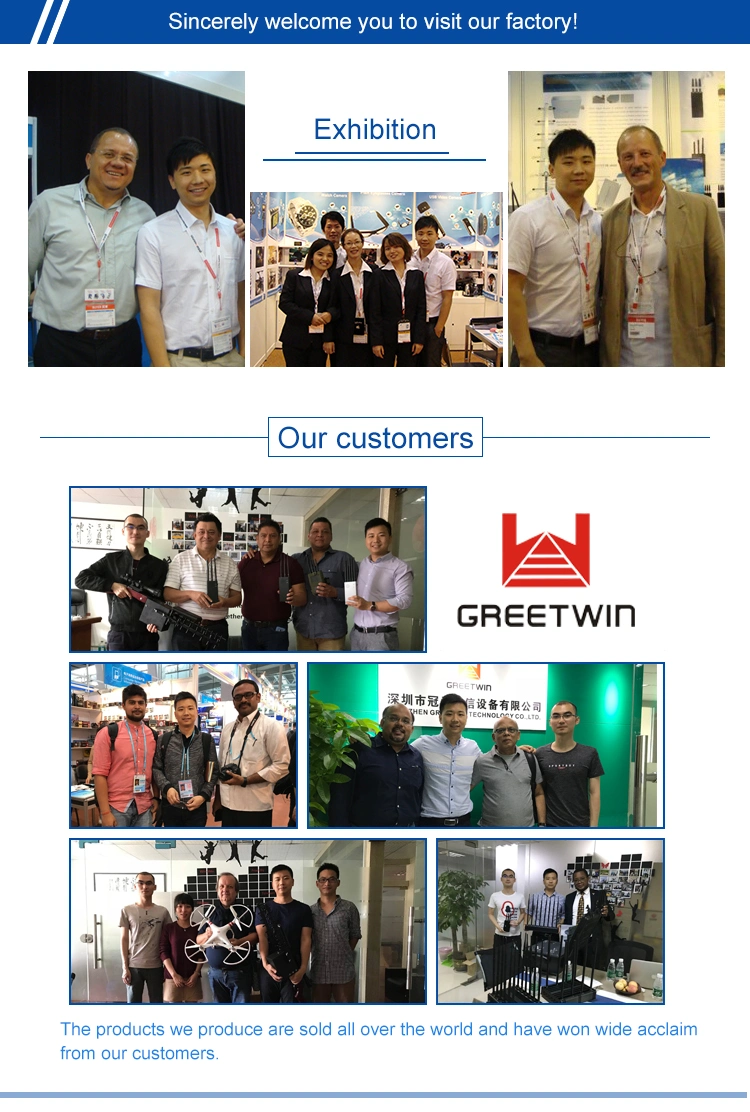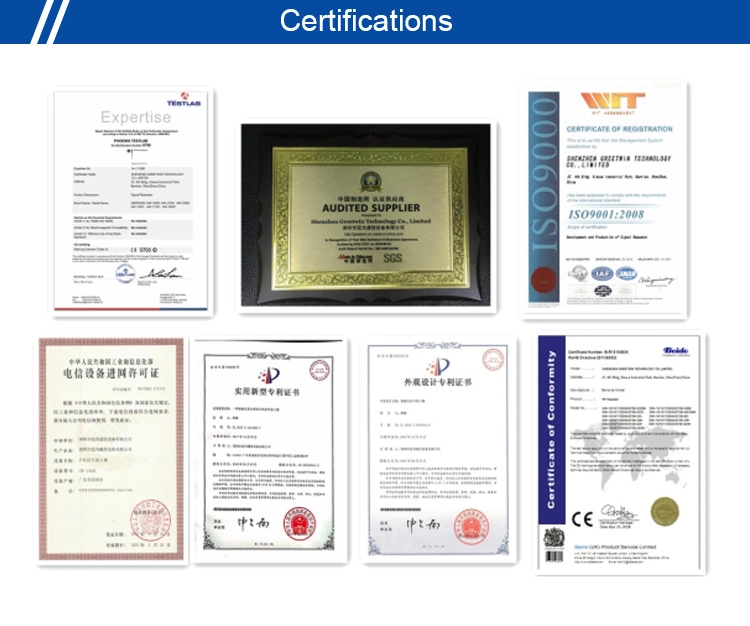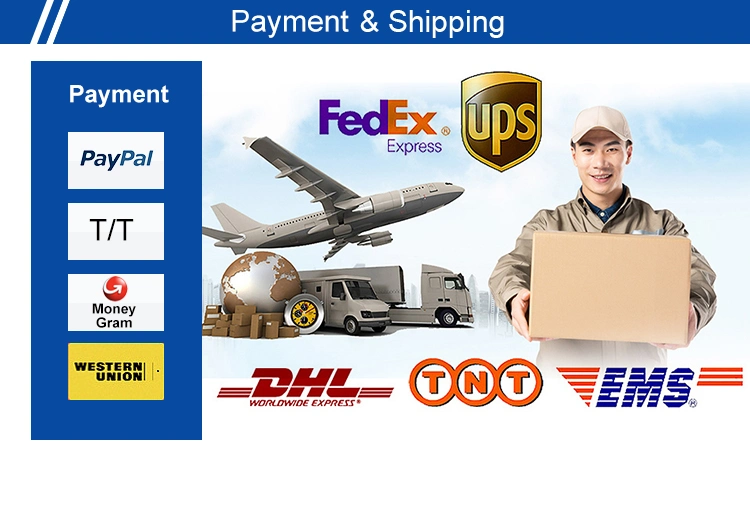 Q1. Could I get a sample before bulk order?

Yes, we offer the sample for all models but charged.

Q2. What should I do if I don't know about frequency in my country?
Please feel free to contact us with your inquiry, we will find the frequency you need and address your problems.
Q3. Do you accept OEM/ODM order?

Yes, we can customize the brand logo, colors, and frequencies.
Q4.Shipment Date
| | |
| --- | --- |
| Sample | 3-5 business days |
| <20 pcs | 7-15 days |
| 20-50 pcs | 15-24 days |
| >50 pcs | Negotiate |
Q5: Delivery Date of the sample by DHL/FedEx
| | |
| --- | --- |
| USA/Canada/Europe/Asia | 3-5 days |
| Middle East/Latin American | 5-7 days |
| African | 3-7 days |
Q6.Payment Method

T/T, Western Union, Paypal, and Credit Card are available,
but we suggest paying by Alibaba Trade Assurance, the most favor, and security method.
*Other methods please contact us with more details.

Q7.Others
(1)Frequency
We can customize Single/Double/Triple/Quand/Penta Band for cellphone signal like 2G/3G/4G(GSM/CDMA/DCS/PCS/WCDMA/LTE, etc,)
(2)Output Power &Coverage Areas
| | |
| --- | --- |
| Output Power | Coverage Areas |
| 20dBm | 500-1500m² |
| 23dBm | 1500-2500m² |
| 25dBm | 2500-4000m² |
| 27dBm | 3000-5000m² |
| 30dBm | 5000-8000m² |
*Coverage is related to local signal strength, please contact us with your local condition, we can offer the best solution.
(3)Antenna
Cellphone signal booster must attach one indoor antenna and one outdoor antenna by two coaxial cables.
Website's price only includes a signal booster, please contact us if you need one set of devices with antenna, splitter, and coupler.